So! It's been a few months since I've been able to get some time to write, and boy have I missed it. I feel like I'm getting backed up. Like most Americans, life has been a little more than full. I'm blessed to have a full life. A full life is a good thing (but if the pace came off just a bit I'd be ok too).
A few months ago, I started an adventure in food intake called Keto. Most people are by now aware what Keto eating is. The general idea is to remove just about all carbohydrate foods from the diet, and replace those carb-dense foods with added fat and protein. The idea is to train the body to burn fat as the primary fuel source.
Rachel and I started Keto eating about 4 months ago. She was addressing some joint pain and inflammation issues. I tend to be really food-lazy (when left to my own devices, I usually find something left over and add alot of mayonnaise to it), so I figured why not? Perhaps sadly, I could eat the same thing 9 times a day and be fine (as long as it had alot of mayonnaise on it). See why Rachel handles the meals?
My aim in our adventure was to tone, tighten, try to hold my muscle mass, and make my fat places less fat (and ok, not cook).
We all have those places that we look at first in any reflection or picture of ourselves. We sigh. My areas were and are my abs and love-handles (waist), so thankfully I need to be mostly naked for those to show (which happens more often than it probably should. What?) At 59 and 1/2 (thank you financial advisor for pointing that out), I was not expecting bodybuilding show quality, but I do try to set a better-than-your-average 59 and 1/2 standard.
Plus, Keto just sounded groovy. I've never been part of an eating group, so of course I was anxious to try it out. Keto menus, keto ice cream bars, keto websites, keto workouts (mayonnaise is of course the top keto condiment – score!). For me it sounded like a slow fat one over the plate.
Like most new adventures, I set my goals and created a plan. My goal was centered around a keto trend, but not necessarily going whole-hog (although, actually eating a whole hog would trend towards being keto-friendly, so there's that).
My plan
– Be smarter about my selection of fats but maintain an increased level of fats in the diet
– Reduce the carbs but still maintain energy and strength
– Get those carbs largely from the garden
– Stay away from anything man-made (except after-dark bites of my Keto bars)
– Stop eating / snacking at night while watching "Alone" (Hey bear! Grilled muskox hooves!)
– Get another lipids panel pulled in 30 days
– Reach 190 and order the new Speedo (Rachel said no but no can mean so many things)
– Consume a fine martini or two a night (Gin, of course)
– Maintain my love of all things fitness and slam my balls (It just never gets old)
How Keto Really Worked For Me
The real test of any plan is living it, and keto was the same. The truth is, for me, I didn't alter a great deal of what I was already doing. Mostly, I cleaned it up a bit, learned more about how many carbs I was actually getting (yikes), and paid more attention to the evening snacking. To be honest, after awhile I found that keto was leaving me flat, feeling a bit thin, and lacking energy to slam my balls (and that dog won't hunt).
The final answer for me was limiting my carbs and moving into a sort of modified keto. I left most of the processed food alone (rice cups, bread, and crackers). I just didn't feel well adding a lot more fat to my diet. I did increase fats like avocados and peanut butter, but that whole bacon thing made me ill. The main achievement for me was in reducing my carb intake and switching what carbs I do get over to whole foods.
I tried to be food-aware every day; to lean into whole foods that would get me where I wanted to go, and to leave the ones that were boxed or packaged alone. I eat a lot of food every day, and more now because of the slam-ball workouts. In my quest to take up slightly less space on the planet, I sought to better understand the effects that carbohydrates had on my body.
We are awfully carb-heavy in this country (see what I did there?) and I was no exception. I became more aware, ate slower, thought about the food in my mouth, planned meals, didn't buy the crap, and really evaluated portion sizes. I'm not a resrictionist; less and less is not a sustainable approach. I do believe in awareness, exercise, and fun, and more.
My Food
My daily food now consists of a morning Muscle Milk potion with blueberries (blueberries help keep lead in the pencil, and the antioxidants are an added bonus), or egg whites and cheese. Maybe half a banana. Tropical fruits like bananas have a lot of sugar, so I go easy there (banana and coffee. Yes.).
For lunch it's usually some variation of leftovers from the night before or something with cottage cheese (tuna?) and mayonnaise of course. My mid-afternoon snack is probably more of the same as lunch. My after mid-afternoon snack (slamming balls takes lots of energy) is often an apple and peanut butter or the other half of the morning banana and peanut butter.
For dinner we grill some sort of protein or tofu (if you've not grilled tofu, don't write it off just yet. Put the barby sauce to it and you'll be surprised). We grill just about every night, year round, and we grill just about anything and everything you can think of, including all manners of vegetables and proteins. You name it, I bet I've grilled it (next up, muskox hooves). We mix that with a giant salad or grilled cauliflower or broccoli or carrots or brussel sprouts. Grilled broccoli tastes like steamed clams. Try it, you'll see. Pretend you're on the coast of Maine overlooking the surf and are rich. A fine martini (Gin, of course) really cements the fantasy.
In the evening when I get snacky, I go back for the blueberries (heh-heh) in a bowl, and add peanut butter, baking chips, and soy milk.
Of course, like I planned, I've kept the evening martini (Gin, of course) (or two), along with the great conversation time with Rachel. We plan our future, talk about goals, make plans, and recount the day. I'm working on perfecting the Blueberry Martini (Gin, of course).
But Wait, There's More
I would be remiss if I did not mention that when I want a treat meal (not cheat meal. Stop thinking like that), I have it. We had pizza last week (loud noises and involuntary hip thrusts. Sorry neighbors). It is life, after all; eat the damn cupcake and have fun and make noises (just don't do it every day). And then remember you had that enjoyment, keep a big smile on your face, and look forward to making plans over the next week to stay on your goals.
I would be remisser (?) if I did not also mention exercise. Although I might not be working with the poundage I used to (always a good idea to delay knee replacement), it's really vital to the long term success of any life-health plan. I can't say that enough. We have to move, and we have to maintain muscles, which means lifting things. Keep it fun, mix it up, get creative, work hard.
It's been a little more difficult wearing a mask at the gym (feels like being waterboarded), but every once in awhile, because of the decrease in gym attendance, I get the place to myself…and…I mean…well?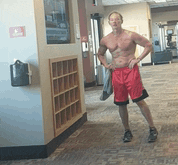 Finally
I know most people want some sort of quantifiable progress so here's that: Although I hate scales (they only really tell you what planet you're on), I went from 202 to about 187. My body seems to want to stay right around that weight; some days a little more, some less. I closed up one notch on the belt. I ate alot of food. I didn't take body fat percent or any of that, but I think my fat places are skinnier.
Here's the real deal: I feel great. At almost 60, I have so much energy. I'm happy and optimistic. I'm ready to go all the time. I can't wait for the next workout, or mountain bike ride, or aerobic housecleaning, or whatever it is. Again, I'm focusing on a workable health and lifestyle plan that's fun and sustainable. Modified Keto did what I wanted it to.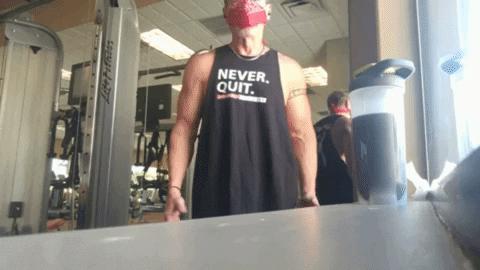 As always, I'd love comments. I have zero interest in arguing, so if you disagree, be well and more power to you. I certainly don't have all the answers, but often just having a real conversation about ideas can be the action that gets us past that sticking point. If you have pointers or a life-lesson, I could use all of them I can get.
It's been fun. It is fun. I feel great as I near the end of my 5th decade in this realm. I'm still making positive changes. I eat clean and light most of the time. I eat often. I'm happy. I move in all sorts of ways. I lift heavy things. I have more fun. I look pretty good for my age and for someone who does not obsess (but, I mean, c'mon, who doesn't do the booby dance when they can?)